2
minutes read
LoadFocus is here with its new Page Speed Test creation feature. You can kick back, select from various cloud locations and devices, schedule tests and voila, sit back and watch the magic happen. So, without further ado, let's dive right in!
Harness the Power of Page Speed Tests: Watch Your Website Performance
Imagine having a personal assistant whose only job is to keep an eye on your website's performance. Sounds cool, right? Now, think bigger. Picture an assistant who doesn't need coffee breaks or sleep and can work round the clock. Excited? That's precisely what you get with LoadFocus's new Page Speed Test creation.
Choose and Cruise: Leverage Multiple Locations and Devices for Your Page Speed Test
I remember working on a client's website a few years back. The site was based in New York and worked perfectly there. However, the client started receiving complaints about the website's slow loading speed from users in Europe. This was the first time I realised the importance of global Page Speed Testing.
Set it and Forget it: Streamline Your Page Speed Tests with Simplified Scheduling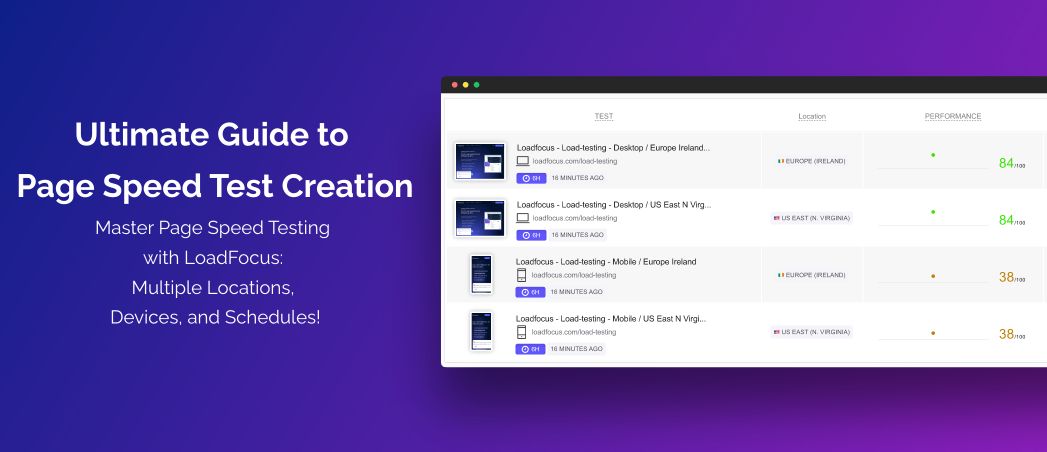 Now, this is my favorite part. Once I worked on a project where I had to manually run Page Speed Tests every six hours. Yes, even during the ungodly hours. I still shudder at the memory of those sleep-deprived days.
Power Up with LoadFocus: Creating Your Page Speed Test
So, are you ready to level up your website performance game? Here's how you can get started with creating a new Page Speed test monitor on LoadFocus:
Final thoughts
Understanding your website's performance is like having a secret weapon in the competitive digital world. With LoadFocus's new Page Speed Test creation feature, you can effortlessly monitor your website's performance, giving you a leg up over your competitors.
So, what are you waiting for? Put on your website performance superhero cape and dive into the exciting world of performance testing with Page Speed Tests on LoadFocus. Happy testing!
Free Website Speed Test is now available.